Forming Estonian foreign delegation
24. November 1917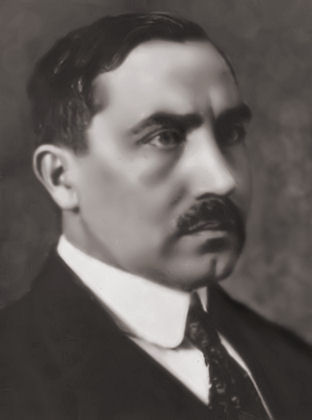 On November 24, 1917, the Committee of Elders permitted Ants Piip (see image) and Jaan Tõnisson to represent the Provincial Assembly abroad, to gain international support to the independence of Estonia.
Right after Finland had become independent, Tõnisson traveled to Helsinki and, in January 1918, to Stockholm, contacting the embassies of Great Britain, France and the United States of America to gain their recognition to Estonian Provisional Government. At the same time, he tried to explain the Estonian viewpoints about its independence to the German government via German embassy.
On December 11 1917, the Committee of Elders of the Provincial Assembly appointed three out of eight Estonian governorate's legates to the Russian Provisional Government: Jaan Poska, Julius Seljamaa and Jüri Vilms. They formed the Embassy of Estonian Nation, that held all the rights to open negotiations with foreign countries.
Estonian delegates went to Petrograd, to attend the meeting of the Russian Provisional Government on January 5 1918. There, Estonian wish for independence was rejected. As the majority of the Esers in the Provisional Government refused to validate the Soviet government, Bolsheviks disbanded the Assembly on the same night. However, by the end of January (beginning of February), Estonian delegates had succeeded in receiving recognition to Estonian independence through the embassies in Petrograd. Great Britain and France recognition was de facto.
Source: Eesti ajalugu. VI, Vabadussõjast taasiseseisvumiseni. Tartu: Ilmamaa, 2005
Õie Elango, Ants Ruusmann ja Karl Siilivask. Eesti maast ja rahvast: Maailmasõjast maailmasõjani. Tallinn: Olion, 1998
Eesti ajalugu: kronoloogia. Tallinn: Olion, 2007
Eesti ajaloo atlas. Tallinn: Avita, 2006.
Image source: http://dic.academic.ru/pictures/dewiki/65/Ants_Piip.jpg