Germans capture Tallinn
25. February 1918 time 12:00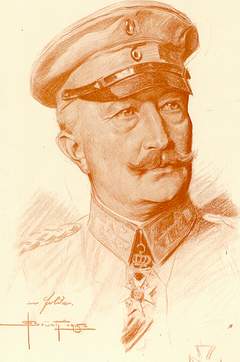 Around midday on February 25, German troops entered Tallinn and general Adolf von Seckendorff (see image) settled in Toompea castle. German units which were entering the navy port found themselves under Bolshevik machine gun fire from a cruiser named "Admiral Makarov".
Germans were unable to stop people from escaping and 62 ships with 4000 people on board set sail towards Helsinki, from where most people took trains to Petrograd. Some Red Guards volunteered to participate in Finnish Civil War. While retreating, part of Tallinn's land- and most of coast defenses were destroyed. Germans captured Pärnu, Viljandi and Paide on the same day.
Even though the members of the Salvation Committee requested to meet with Seckendorff already on February 25, general did not bother to answer their request, saying that no Estonian Republic exists. Konstantin Päts met the general in March 1, as a member of Tallinn's city council, which in it self displays the attitude of the Germans. Estonian Provisional Government went underground until November.
German units in front of Toompea castle in Tallinn. Troops entered the capital on February 25, 1918.
Sources: Eesti ajalugu. VI, Vabadussõjast taasiseseisvumiseni. Tartu: Ilmamaa, 2005
Õie Elango, Ants Ruusmann ja Karl Siilivask. Eesti maast ja rahvast: Maailmasõjast maailmasõjani. Tallinn: Olion, 1998
Eesti ajalugu: kronoloogia. Tallinn: Olion, 2007
Eesti ajaloo atlas. Tallinn: Avita, 2006. Image source: http://www.austro-hungarian-army.co.uk/bruch/seckend.jpg http://www.hot.ee/vabadusev/Vabaduse/Saksa%20v%C3%A4ed%20Tallinnas%20Peetri%20v%C3%A4ljakul%201918.a.,.jpg