The Finnish Boys in Estonia
19. August 1944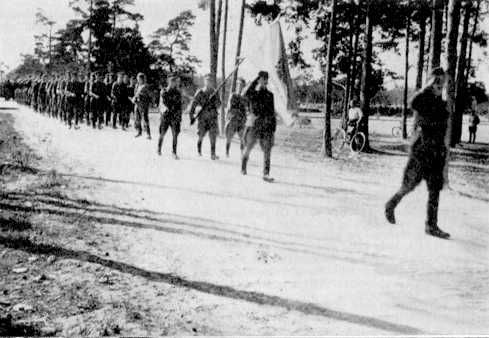 Loosing South-Eastern Estonia created a lot of anxiety. Most of the population however, believed in a third chance: restoring Estonia's independence with the help of the Western countries.
The National Congress of the Republic of Estonia, founded in the beginning of 1944, supported this plan. To increase the amount of deployable armed forces, the Estonian Regiment JR 200 (the Finnish Boys), which was part of the Finnish Army, was called back home.
On August 12, 1944, the Finnish military head quarters granted the permission to return to Estonia to the leader of JR 200, captain Karl Talpak, and on August 19, German ship "Warthburg" reached Paldiski port with 1752 men on board. They were sent to Tallinn.
The Finnish Boys reaching homeland (see image) created a wave of national excitement, some people expected the second War of Independence to break out. In the beginning of September, based in this idea and with the permission of the German leadership, Estonian admiral Johan Pitka began to form units, which were named after him.
Some of the Finnish Boys were sent to Emajõe River front right away, where in order to initiate another assault, German forces had to break through a wedge in Voldi, in Jõgeva county. This they achieved on August 28, 1944, after the Finnish Boys and units from Estonian Police Battalion joined in assault. Few days later, they reached Emajõgi River. Germans tried to take out the bride north of Tartu, but this did not entirely succeed. Nonetheless, by the beginning of September, front on Emajõrgi River line was stable again.
Sources: Eesti ajalugu. VI, Vabadussõjast taasiseseisvumiseni. Tartu: Ilmamaa, 2005
Eesti ajaloo atlas. Tallinn: Avita, 2006
Image sources: http://www.kool.ee/failid/jr.jpg
http://www.postimees.ee/foto/1/1/1331114762c22f2d414_1.jpg